Report 1.5: Enrollment - By Status Disaggregated
(Updated as of 10/13/2021)
Description: Reports the count and percentage of enrolled students according to their enrollment status from Report 1.1: Enrollment - Primary and Short-term Enrollment Count by Subgroup. The counts are disaggregated by Ethnicity/Race as well as Gender and Grade.
Report Type: ODS and Snapshot / Certification (Fall 1)
Security Roles: LEA - Level Fall 1 Reports Role
Data As Of:
If ODS version, user defined
If Snapshot version, Fall 1 Census Day (First Wednesday in October)
Basic selection criteria:
Students Included: Students with an open enrollment on the "Data As Of" date, where
- Enrollment Status = Primary (10), Secondary (20), Short Term (30) - Grade Levels KN – 12
Note - Snapshot: Must have a SINF record that wholly or in part overlaps a qualified enrollment. Default Grade Level does not include PS since PS does not have to be certified.
Report Filters: Filters can be selected resulting in only totals for the selected filter being displayed – legend on bottom of last page of report states which filter/s were selected
Academic Year
LEA
Status – (Snapshot)
School Type
School
Grade
Gender
Transitional Kindergarten Program
Ethnicity/Race
English Language Acquisition Status
Title III Eligible Immigrant
Title I Part C Migrant
Socio-economically Disadvantaged

NOTE: Free Meal program and Reduced Price Meal program criteria for SED includes Program Membership Start Dates from 7/1 – 10/31 of current academic year

Students with Disabilities
Gifted and Talented Education
Student School Transfer Code
District of Geographic Residence
Enrollment Status

NOTE: Defaults to Primary (10) and Short Term (30)

Group By
Show All Schools Only
Report Logic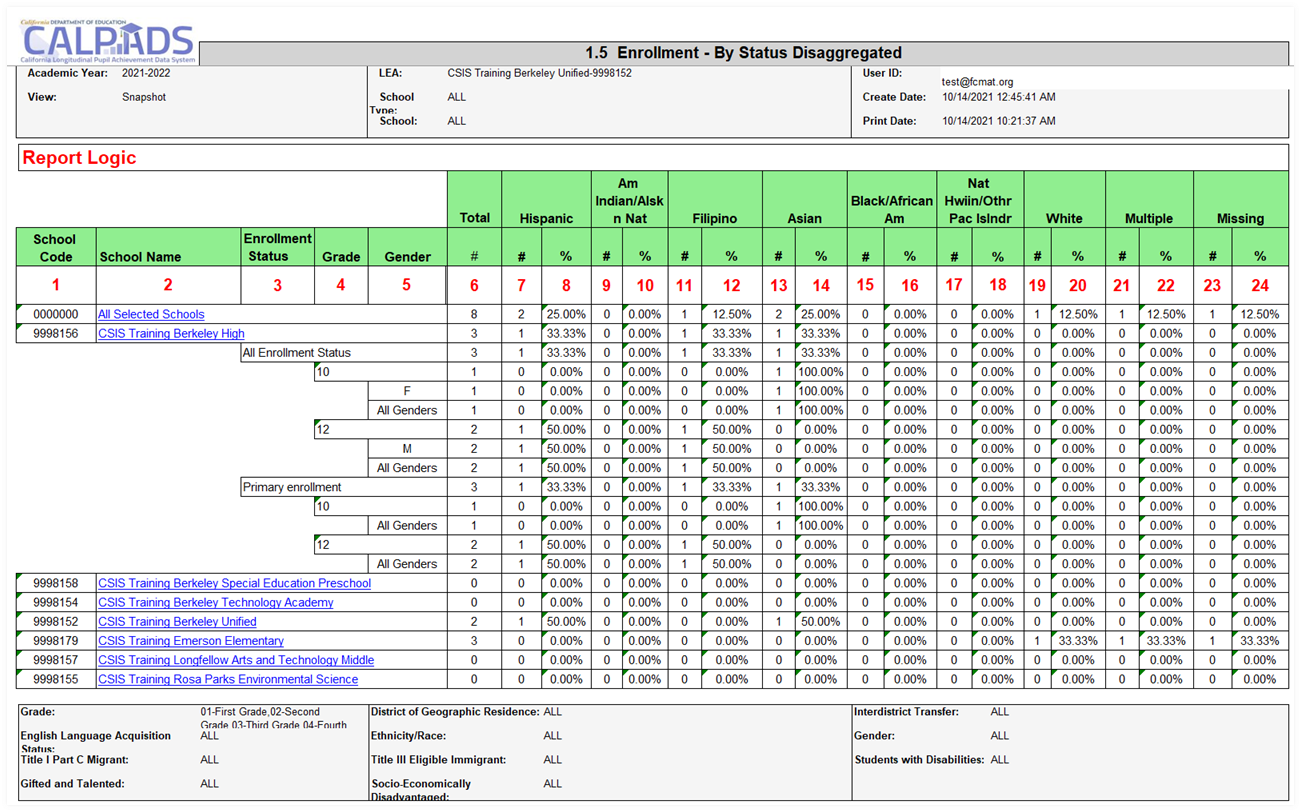 | Column | Rules |
| --- | --- |
| 1 | School code is derived from user ID permission and Expected Schools table. This field can be expanded to show by Enrollment Status and Grade categories. |
| 2 | School Name is determined by #1 and the Expected Schools Table. School Name column leads to Report: 8.1 Student Profile List |
| 3 | Description of Enrollment Status category when School Code column is expanded |
| 4 | SENR Field 1.24 Grade Level. This field can be expanded to show Grade by Gender category. |
| 5 | SINF Field 2.19 Student Gender code when Grade Level column is expanded |
| 6 | Total: Count of students by Enrollment Status |
| 7, 9, 11, 13, 15, 17, 19 | Number (#): Count of Enrollments in each race category |
| 8, 10, 12, 14, 16, 18, 20 | Percentage (%): Percentage of Enrollments for each race category |
| 21 | Number (#): Count of Enrollments with multiple race categories |
| 22 | Percentage (%): Percentage of Enrollments with multiple race categories |
| 23 | Number (#): Sum of Enrollments with race code missing indicator selected |
| 24 | Percentage (%): Percentage of Enrollments with race code missing indicator selected |
| | |
| | |
Glossary References:
Gifted and Talented Education Program (GATE) Subgroup,
Socio-economically Disadvantaged Subgroup,
Title 1 Part C Migrant Subgroup,