Report 16.7 – Students with Disabilities – Monitoring Counts
(Updated as of 10/06/2021)
Description: Reports total counts of enrolled students with an Active IEP. Of those students, it reports the number of students with a Late Meeting, including a count of Late Plan Review Meetings and Late Eligibility Evaluation Meetings. It also reports the total number of students aged 16-22 with an Active IEP, and of those students the number with and without Transition Goals. The report will use the most recent active SPED record that meets the qualifying SPED criteria, even if the SPED record is from another LEA/SELPA and does not correspond with the LEA of the current Enrollment record.

Report Type: ODS

Security Role(s) Required: Fall 1 Reports Role or EOY 4 Reports Role
Data As Of: User Defined

Basic selection criteria:
Students included: Students with a qualifying enrollment who have an Active SPED record (regardless of what Reporting SELPA (14.15 field) is reported) at any time during the report period.
Grade Levels = PS, KN – 12
Enrollment Status = Primary (10), Secondary (20), Short Term (30), Non-ADA (50)
In cases where more than one enrollment record overlaps the report period, priority is given as follows: Primary Enrollment (10), Short Term (30), Secondary (20) and then Non-ADA Enrollments (50).
Special Education Program Records (SPED) included:
Most recent Active Plan Type Code = IEP (100), regardless of reporting LEA
Meeting Type = Part B Initial (10), Plan Review (20), Eligibility Evaluation (40) – based Special Education Meeting Date or Amendment Date (if populated)
Note:
Student Information (SINF), Student Program (SPRG) and Student English Language Acquisition (SELA) data used for selecting student subgroups (e.g. Race/Ethnicity, Homeless, EL, etc.) are selected from the most recent record that overlaps the qualifying enrollment.

Demographic data is based on CALPADS source and may not be consistent with local special education data systems.

Student Age Filter is calculated based on the students Age as of the report date

Report Filters: Filters can be selected resulting in only totals for the selected filter being displayed – legend on bottom of last page of report states which filter/s were selected
Academic Year
As of Month – default is current month
As of Day – default is current day
LEA
Gender
Ethnicity/Race
Grade Level
English Language Acquisition Status
Socio-economically Disadvantaged
Title I Part Migrant
Homeless
Foster Youth
Student Age
Report Logic
---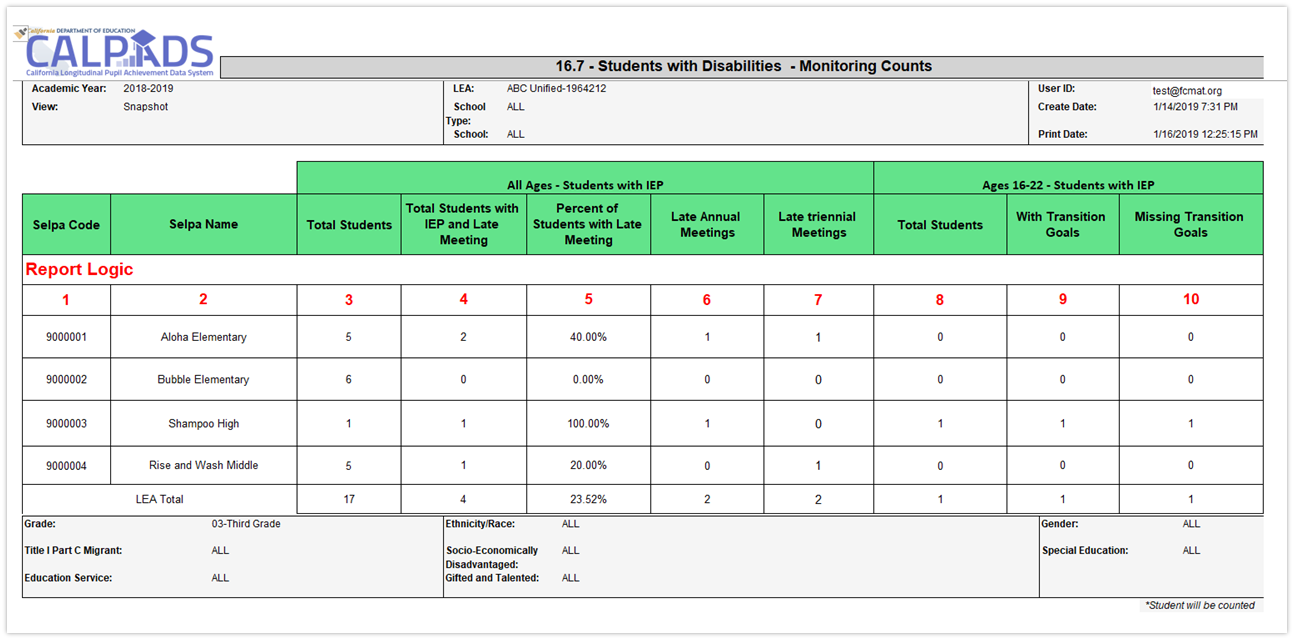 | Callout | Rule |
| --- | --- |
| 1 | Use Reporting SELPA from SPED Field 14.15 from most recent open SPED record that meets the qualifying SPED criteria, even if the SPED record is from another LEA/SELPA and does not correspond with the LEA of the current Enrollment record |
| 2 | Use data element name from CALPADS Security Model |
| 3 | Total unduplicated students on an Active Plan where the Education Plan Type = IEP (100) |
| 4 | Total unduplicated count of students on an Active Plan where the Education Plan Type = IEP (100) AND AND student was counted in either Late Plan Review Meeting Count or Late Eligibility Evaluation Meeting Count. |
| 5 | Total students with IEP and Late Meeting divided by total students, multiplied by 100. |
| 6 | Count of late Plan Review Meetings (If meeting date of most recent active IEP record, where Meeting Type = 10 or 20, is more than 365 days prior to Report Date) |
| 7 | Count of late Eligibility Evaluation Meetings (If meeting date of most recent IEP record, where Meeting Type = 10 or 40, is more than 3 years prior to Report Date) |
| 8 | Total unduplicated count of students on an Active Plan where the Education Plan Type = IEP (100) AND student is 16 years old or greater (Age calculation: Report Date – Birthdate from SINF) |
| 9 | Total unduplicated count of students on an Active Plan where the Education Plan Type = IEP (100) AND student is 16 years old or greater (Age calculation: Report Date – Birthdate from SINF) AND field 14.43 Agency Rep IEP Participation does not equal 20, AND all of the following fields in the student's most recent SPED record are "Y": |
| | - 14.36 IEP includes Post-Secondary Goals Indicator |
| | - 14.37 Postsecondary Goals Updated Annually Indicator |
| | - 14.38 Postsecondary Goals Age Appropriate Transition Assessment Indicator |
| | - 14.39 Transition Services in IEP Indicator |
| | - 14.40 Supportive Services Indicator |
| | - 14.41 Transition Services Goals in IEP Indicator |
| | - 14.42 Student IEP Participation Indicator |
| 10 | Total unduplicated count of students on an Active Plan where the Education Plan Type = IEP (100) AND student is 16 years old or greater (Age calculation: Report Date – Birthdate from SINF) AND EITHER: |
| | 14.43 Agency Rep IEP Participation = No – Not Invited (20) OR at least ONE of the following fields in the student's most recent SPED record are "N": |
| | - 14.36 IEP includes Post-Secondary Goals Indicator |
| | - 14.37 Postsecondary Goals Updated Annually Indicator |
| | - 14.38 Postsecondary Goals Age Appropriate Transition Assessment Indicator |
| | - 14.39 Transition Services in IEP Indicator |
| | - 14.40 Supportive Services Indicator |
| | - 14.41 Transition Services Goals in IEP Indicator |
| | - 14.42 Student IEP Participation Indicator |