Report 3.6: Course Section Enrollment – Count by Content Area
(Updated as of 01/14/2022)
Description: Reports the course sections of each Local Course within a State Course Code and the number of students enrolled in each local course as of the Fall 2 Report Period. Also reports details about all courses by State Course Code and identified local courses mapped to the state code.

Security Roles: Fall 2 Reports
Report Type: ODS and Snapshot / Certification (Fall 2)

Data As Of:
If ODS version, user defined
If Snapshot version, Fall 2 Census Day (First Wednesday in October)

Basic selection criteria:
Students Included: Students with an open enrollment on the "Data As Of" date, where the Enrollment Status equals 10 (Primary), 20 (Secondary) or 30 (Short Term) and is in Grade Levels KN – 12.
Course Data Rules:
Course Section (CRSE) data and Student Course Section (SCSE) data are selected for the Academic Year being reported.
Course section with 0 enrollment: Not included
Course section with SEID = 9999999999: Included

Report Filters: Filters can be selected resulting in only totals for the selected filter being displayed – legend on bottom of last page of report states which filter/s were selected
Academic Year
LEA
Status – (Snapshot)
School Type
School
Grade
Gender
Ethnicity/Race
Content Area
State Course Code
Course Content Area Subcategory
Education Service
CTE Course
UC/CSU Approved Course
Report Logic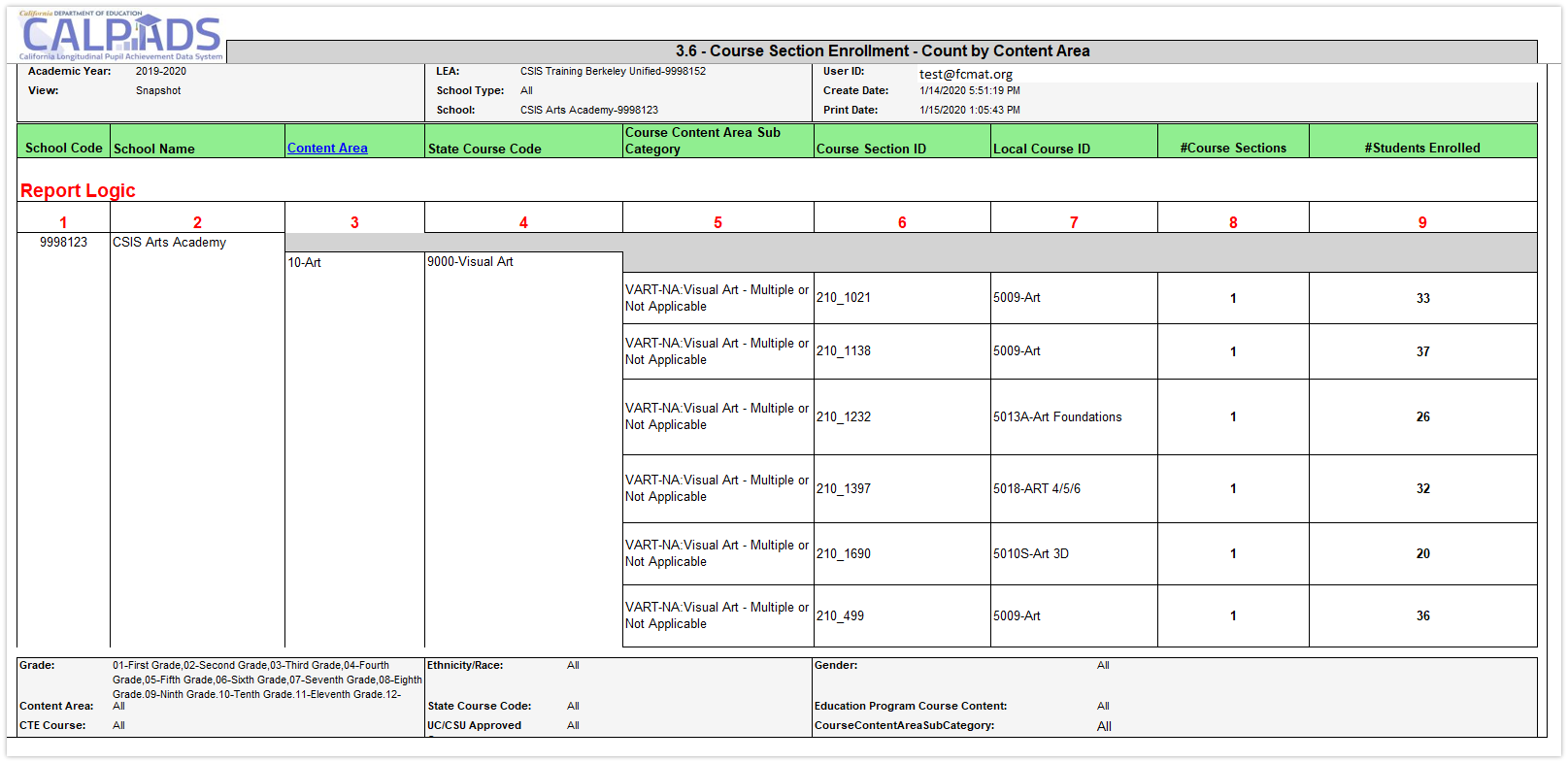 | Column | Rules |
| --- | --- |
| 1 | School code is derived from user ID permission and Expected Schools table |
| 2 | School Name is determined by #1 and the Expected Schools Table. |
| 3 | Use CRS‐State Course Code (9.07) to look‐up value in Course Group Master Combos document, Valid Code Combo sheet/tab, to derive corresponding Content Area code and name. |
| | See the Content Area Category Assignment Code column on the Course Group Master Combos tab of the CALPADS Valid Code Combinations |
| | Links to Report 3.7: Course Section Enrollment - Count and Details |
| 4 | CRSE Field 9.07 - Displays name of each State Course Code with student enrollment. |
| 5 | CRSE Field 9.28 – Displays the Course Content Area Subcategory |
| 6 | CRSE Field 9.14 – Displays Course Section ID |
| 7 | CRSE Field 9.08 and CRSE Field 9.09 – Displays Local Course ID and Course name. |
| 8 | # of Course Sections – Count of Course Section ID |
| 9 | # of Students Enrolled – Total count of students in each Course Section ID |
| | |