Report 1.24: Dropouts by Subgroup
(Added on 10/06/2021)
Description: Reports the number of students submitted by the LEA as Dropouts by subgroup. Dropout counts are based on students who exited during the prior academic year.
Note: The count of student program records are based on the dropout date range (8/16 – 8/15) regardless of whether the record is owned by the school being reported.
Report Type: ODS and Snapshot/Certification (Fall 1)
Security Roles: Fall 1 Reports Role
Data As Of:
Fall 1 Census Day (First Wednesday in October)
Basic selection criteria:
SENR -

Enrollment Status = 10 (Primary)
Grade Level = 7 – 12
Enrollment Exit Date falls within Dropout Reporting Cycle (8/16 – 8/15)
Exit Reason Code = E140, E300, E400, T270, T380, E380, or E230 with Completion Status = 360

AND No subsequent enrollment, in the same LEA, with Start Date on or before Census Day of the current academic year.

SPRG & SPED – data reported or used for selecting student subgroups (e.g. Socio-economically Disadvantaged) and Students with Disabilities are selected from qualifying records overlapping the Dropout Reporting Cycle, regardless of whether the record is owned by the LEA being reported.
Note: Re-enrollment in another LEA is not evaluated for purposes of adjusting dropout counts in this report. To view Dropout data adjusted for re-enrollments in another LEA, please refer to Snapshot report 1.14 Dropout Count – State View and 8.1c – Student Profile Dropouts – State View List.
Report Filters: Filters can be selected resulting in only totals for the selected filter being displayed – legend on bottom of last page of report states which filter/s were selected
Academic Year
LEA
Status
School Type
School
Grade
Gender
Ethnicity/Race
Report Logic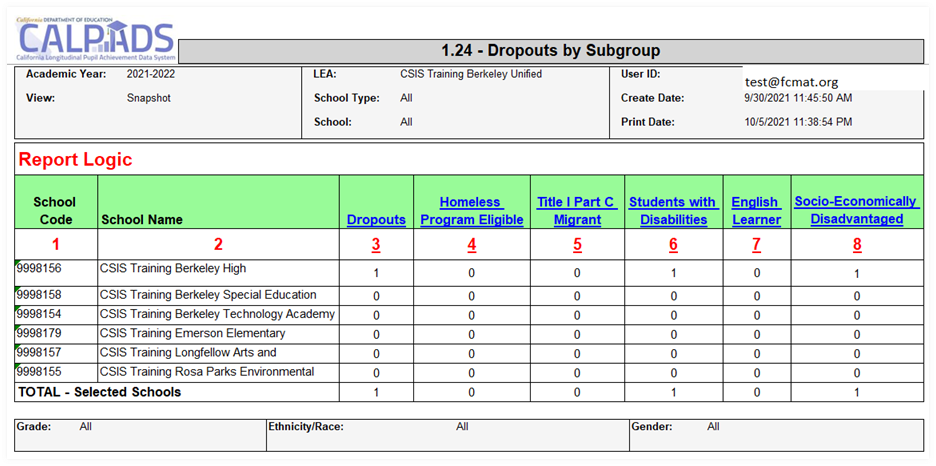 | Column | Rules |
| --- | --- |
| 1 | School code is derived from user ID permission and Expected Schools table |
| 2 | School Name is determined by #1 and the Expected Schools Table. |
| 3 | Count of Dropouts – SENR Field 1.23 Enrollment Status = 10 (Primary) AND SENR Field 1.24 Grade Level = 7 - 12 AND SENR Field 1.25 Enrollment Exit Date = within Dropout Reporting Cycle AND SENR Field 1.26 Exit Reason = (Exit Codes stated above) AND no subsequent enrollment where SENR Field 1.22 Enrollment Start Date is on or before Census Day of the reporting year for the same LEA. |
| 4 | SPRG Field 3.13 Education Program Code = 191 (Homeless) and SPRG Field 3.15 Membership Start Date = any date during the Dropout Reporting Cycle, regardless of whether the record is owned by the school being reported. |
| 5 | SPRG Field 3.13 Education Program Code = 135 (Title I Part C Migrant) and SPRG Field 3.15 Membership Start Date = any date during the Dropout Reporting Cycle, regardless of whether the record is owned by the school being reported. |
| 6 | SPED Field 14.24 Education Plan Type = 100 (IEP), 150 (IFSP) or 200 (ISP) - overlapping Dropout Reporting Cycle |
| 7 | SELA Field 12.13 ELAS Code = EL (English Learner) with status effective during the report period (using effective date) regardless of Reporting LEA |
| 8 | SINF 2.50 – Parent/Guardian Highest Education Level Code = 14 (Not a High School Graduate) – OR |
| | SPRG 3.13 – Education Program Code equals 181 (NSLP Free) or 182 (NSLP Reduced) – OR |
| | SPRG 3.13 – Education Program Code equals 135 (Migrant) – OR |
| | SPRG 3.13 – Education Program Code equals 191 (Homeless) – AND |
| | SPRG 3.15 – Education Program Membership Start Date is within the Graduate/Dropout Reporting Cycle – OR |
| | Foster Indicator equals Y AND Episode Start date and Episode End date are within the Graduate/Dropout Reporting Cycle – OR |
| | Direct Certification Indicator equals Y AND Direct Certification Date is within the Graduate/Dropout Reporting Cycle – OR |
| | Student enrolled at a Juvenile Court School within the Graduate/Reporting Cycle or Dropout Reporting Cycle |