C/A Report 2.8: English Language Acquisition Status – Count by Primary Language
(Updated as of 10/15/2021)
Description: Reports a count of enrolled K-12 students in specific English Language Acquisition Status (ELAS) categories at the school level by grade level within Primary Language. Aggregates school level data to the LEA level and County level. Only students with an Enrollment Status of Primary are included.
Report Type: Snapshot (Fall 1)
Security Roles:
Data As Of:
Fall 1 Census Day (First Wednesday in October)
Basic Report Display Criteria:
LEA Selection

Only LEAs who have certified their data are displayed on the C/A reports
Reports display data only for expected school types flagged as "Y- Yes" or "P- Permitted"
Schools that are expected with a type "Y" will report zeros if the data is certified with no counts
Schools that are expected with a "P" and have not submitted data for the report data type, the school will not display on the report if zeros are certified.
Permitted type schools will only display if they submit and certify data within the report type.
Basic Selection Criteria
Student must have an open enrollment (SENR) record within LEA as of Fall 1 Census Day (First Wednesday in October).
Student must have Enrollment Status of 10 (Primary)
Grade Levels: KN, 01-12
English Language Acquisition Status = English Learner (EL), Initial Fluent English Proficient (IFEP), Reclassified Fluent English Proficient (RFEP), or To Be Determined (TBD)
For Open Enrollments on Census day follow rules below AND use the most recent English Language Acquisition Status using Status Start Date that was effective during the reporting period regardless of Reporting LEA
For Exited Enrollments on Census Day the English Language Acquisition Status Start Date is less than or equal to Enrollment Exit Date
Report Filters: Filters can be selected resulting in only totals for the selected filter being displayed – legend on bottom of last page of report states which filter/s were selected
Academic Year
County
LEA
School Type
School
Grade
Gender
Ethnicity/Race
Primary Language
Socio-economically Disadvantaged
Title I Part C Migrant
Special Education
Gifted and Talented
Title III Eligible Immigrant
Report Logic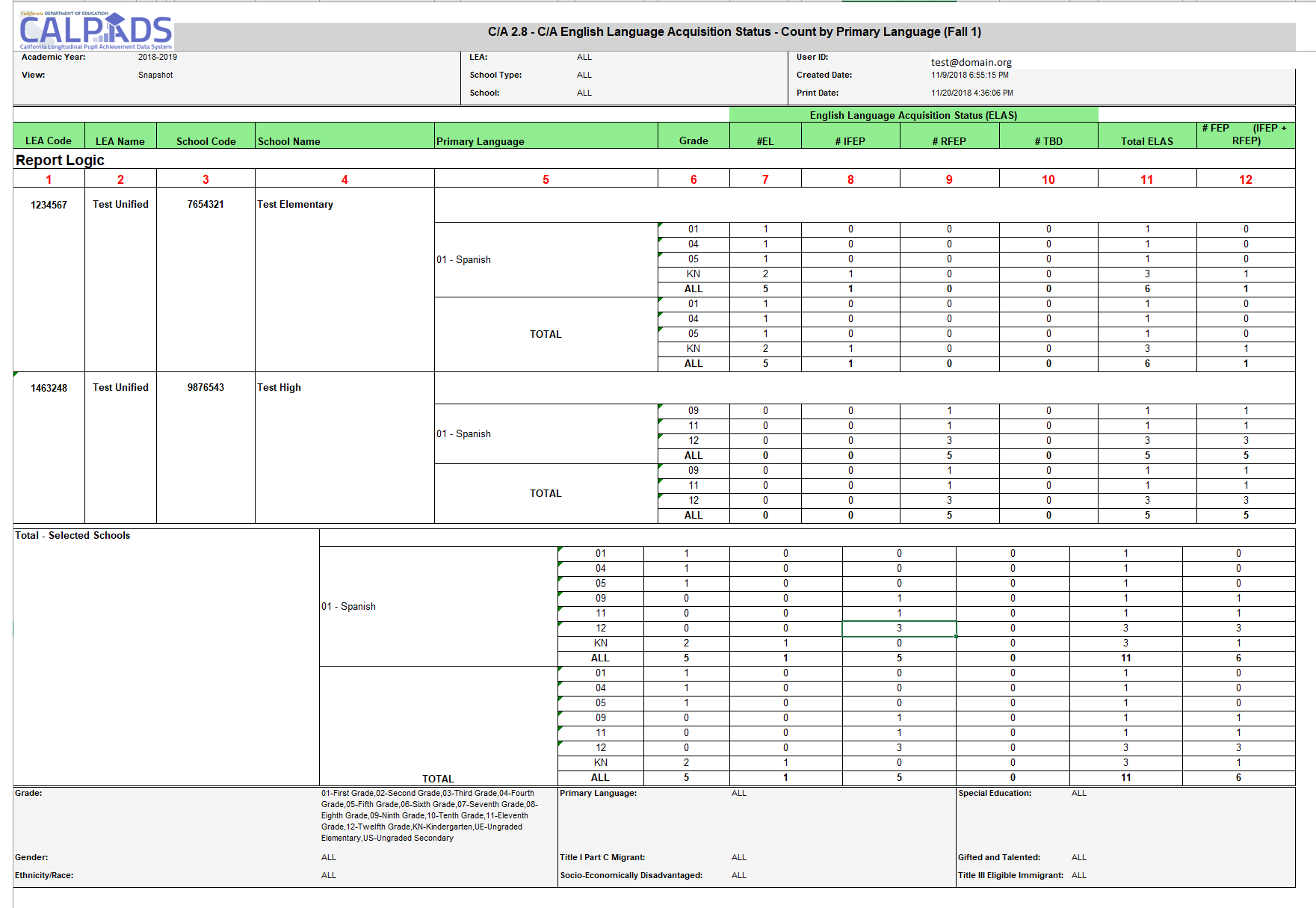 | Column | Rules |
| --- | --- |
| 1 | LEA code is derived from user ID permission and Expected Schools table |
| 2 | LEA Name is determined by #1 and the Expected Schools Table. |
| 3 | School Code is derived from user ID permission and Expected Schools table |
| 4 | School Name is derived from by #3 and the Expected Schools Table. |
| 5 | SELA 12.15 – Primary Language – Use Language to look-up value in CALPADS Code Sets document |
| 6 | SENR 1.25 – Grade Level equals KN -12, UE and US |
| 7 | SELA 12.13 – English Language Acquisition Status equals EL and SELA 12.14 – English Language Acquisition Status Start Date is less than or equal to Census Date |
| 8 | SELA 12.13 – English Language Acquisition Status equals IFEP and SELA 12.14 – English Language Acquisition Status Start Date is less than or equal to Census Date |
| 9 | SELA 12.13 – English Language Acquisition Status equals RFEP and SELA 12.14 – English Language Acquisition Status Start Date is less than or equal to Census Date |
| 10 | SELA 12.13 – English Language Acquisition Status equal TBD and SELA 12.14 – English Language Acquisition Status Start Date is less than or equal to Census Date |
| 11 | Total equals 7 + 8 + 9 + 10 |
| 12 | Total equals 8 + 9 |
| | |
Glossary References: